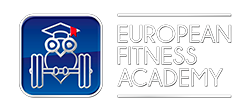 The use of the website www.europeanfitnessacademy.be is subject to the general terms and conditions listed below. By using this website you are deemed to have taken note of these terms and conditions and accept the general terms and conditions without any reservation.
Use of the website
European Fitness Academy pays great attention and care to its website and strives to ensure that all information is as complete, accurate, comprehensible, accurate and up-to-date as possible. Despite all ongoing efforts, European Fitness Academy cannot guarantee that the information provided is complete, correct, accurate or up-to-date. If the information provided on (or via) The website shows shortcomings, European Fitness Academy will make the necessary efforts to correct it as soon as possible. European Fitness Academy disclaims any liability for the choices and related consequences that the user makes of the website on the basis of data found on the website. The content of the website (including hyperlinks) can always be adjusted, modified, supplemented or removed without notice or notice. If you find inaccuracies, please contact the website administrator. You can send an email to info@europeanfitnessacademy.be. European Fitness Academy endeavours to avoid interruptions of a technical nature as much as possible. However, European Fitness Academy cannot guarantee that its website is completely free of interruption is not affected by other technical problems. European Fitness Academy cannot be held liable for direct or indirect damage arising from the use of this website or the information made available on or via the site, including, without limitation, all Losses, work interruptions, damage to your programs or other data on the computer system, or your equipment or programs.
Hyperlinks and references
On or through this website you will be directed to other websites of governments, agencies or organizations with (hyper) links and you will be referred to information sources that are managed by third parties. European Fitness Academy does not have any technical or substantive control options or controls and therefore cannot guarantee the completeness or accuracy of this content, nor the availability of these websites and Resources. The hyperlinks to other sites do not imply any endorsement of the external site or its content. The links are offered to you for information and for your ease of use. European Fitness Academy therefore accepts no liability for direct or indirect damage resulting from the consultation or use of such external websites and their content.
Protection of personal data
General
If you are a member of the European Fitness Academy, are planning to carry out an investigation and/or are interested in visiting our website, then we need certain information and data from you. The processing of your data is governed by laws and regulations, including the law of 8 December 1992 for the protection of privacy with regard to the processing of personal data (the ' Privacy Law ').
A) Which of your data is processed by us?
European Fitness Academy processes personal data. According to the privacy law, a personal data is "any information concerning an identified or identifiable natural person". So these are all the data that can be redirected to your person. Depending on your membership and/or participation, your personal data will be stored in the files of European Fitness Academy.
We can also combine your collected data from the intended files. These (combined) data can also be shared between the Belgian companies of the European Fitness Academy group.
Data of our (potential) members
When participating in a European Fitness Academy research, we process your name, address, place of residence, date of birth, telephone number and your email address in any case. In addition, we keep some data that are necessary in the research, for example, this can be your weight and length.
Data from our website visitors
All visitors to our website are also (personal) data processed. This may include personal data that you enter on the contact page or the webshop itself, such as your email address, name, home or work address or a telephone number. When participating in an investigation of the European Fitness Academy, the necessary data are kept as long as the research is conducted.
Surf and click Behaviour
We also collect information about your visit to our website. This primarily involves data that your browser sends to every Web site you visit by default. Remember your IP address. We may also collect information about which pages of our website you are viewing, on which links (links) you click, how often you visit our website and what other actions you perform; or your surf and click Behaviour.
Cookies
A cookie is a small amount of data that a server sends to your browser, with the intention that it will be saved and returned to the server on the next visit. In this way, the server can easily re-recognize your browser and we know in which language you want to view our website.
Our website uses (temporary) cookies. Sometimes that is third party cookies. Moreover, European Fitness Academy does not have access to third party cookies.
b) Why do we process your data (purposes)?
Service
Without processing your personal data, European Fitness Academy cannot deliver its services to you. We cannot, for example, give an evaluation of your research results. Or if you have asked us a question, we cannot answer it. And without your data, the information on our website is available to you (not good) or certain features of that website are unusable.
European Fitness Academy collaborates with partners, for example for the provision of our services. It is therefore possible that we provide your personal data to those partners. We demand from our partners that at least they meet the privacy law. They must deal with your personal data cautiously and it is forbidden for them to use your data anywhere else than they were provided to them.
Legal obligation
European Fitness Academy may be required by law or regulation to process and/or disclose your personal data to third parties. For example, if a competent authority such as the police so requests in the context of a criminal investigation.
Marketing and sales activities
European Fitness Academy may process your personal data for marketing and sales activities (including termination of your participation) for the benefit of its own services or of companies affiliated to European Fitness Academy. Your data will then be used for making (joint) offers, both in writing, by telephone and electronic (including via email).
To be clear: we do not sell the personal data of our members to third parties so that they can use that information for their direct marketing activities!
(market) Research and analysis
We may use your personal information to conduct research and carry out analyses, with the aim of improving both our website and our services.
Cookies
With the help of cookies, we can, for example, display our information and advertisements on others ' web pages, so that these pages are better aligned with your personal preferences or interests.
c) How do we deal with your data?
Security
European Fitness Academy ensures appropriate technical and organisational security of the data of its members. Therefore, your data cannot be seen for all employees of European Fitness Academy or third parties. In addition, we use your information only as defined in our Privacy policy.
D How can you influence the processing of your personal data?
Access
Each member shall have the right to access his or her personal data. Of course you can ask in your club what data they have recorded from you.
If you do not have enough, you can submit a request for access by sending a letter and signed to European Fitness Academy, Meats 37, 1600 Sint-Pieters-Leeuw, Belgium, quoting "Access Request" and provide your name, address, fixed and/or mobile phone number and a copy of your valid identity card.
Improvement
Each member also has the right to have his or her personal data corrected if they are incorrect. This can also be done on your club. If, for any reason, you do not succeed, you can send a letter and signed letters to the address referred to above in Belgium, stating "improvement request" and bearing your name, address, fixed and/or mobile phone number and a Copy of your valid identity card. We will give a written response within 45 days of receipt of your request.
Resistance
If your personal data is used for purposes other than necessary for the execution of an agreement or necessary for the fulfilment of a legal obligation, you may object to such use. You can therefore especially oppose the use of your data for commercial purposes, such as direct marketing activities as well as the provision of your data to third parties for those same direct marketing purposes. Even if you have previously given permission for that use, you can do so.
Therefore, should you object to the European Fitness Academy using your personal data for the following commercial purposes, please send a letter and signed to the aforementioned address in Belgium, stating " Objection use data ". Provide the letter of your name, address, fixed and/or mobile phone number and a copy of your valid ID card. We will respond in writing within 45 days of receipt of your objection.
Please state clearly in your letter against what form of use of your personal data you object:
– European Fitness Academy Direct mailing by post; and/or
– Commercial email, including the newsletter or SMS messages from European Fitness Academy; and/or
– Telemarketing by European Fitness Academy.
Of course we do everything we can to manage your objection as quickly as possible. It may take some time before we have done so and it is possible that you will be approached by us in the meantime.
Cookies
The website uses so-called "cookies". These are small information files that are stored automatically on your computer's hard drive. The information is sent back to the website's administrator on every visit and allows access to the site to be easier and faster and more efficient. Most Internet browsers allow you to delete cookies from your hard drive or to reject cookies before they are installed. For more information, please consult the instructions of your Internet browser.
Google Analytics
This website uses Google Analytics, a web analysis service offered by Google Inc. ("Google"). Google Analytics uses "cookies" to help the website analyze how users use the site. The information generated by the cookie about your use of the website (including your IP address) is transferred to and stored by Google on servers in the United States. Google uses this information to track how you use the website, to compile reports on website activity for website operators and to offer other services related to website activity and Internet usage. Google may disclose this information to third parties if required to do so by law, or to the extent that such third parties process the information on Google's behalf. Google will not combine your IP address with any other information that Google has. You can refuse the use of cookies by selecting the appropriate settings in your browser. However, we would point out that in this case you may not be able to use all the possibilities of this website. By using this website you authorize the processing of the information by Google in the manner and for the purposes described above.
Intellectual property rights
You have the right to consult the information on this site, download and reproduce it for your personal use, provided that you mention the source, in accordance with the provisions of the law of 30 June 1194 on copyright and related rights. However, this permission does not apply to texts in which explicit restrictions on use are stated. For the reproduction or use of multimedia information (sound, image, software, etc.). is always required prior approval. About the reproduction of the information you can contact European Fitness Academy by email to info@europeanfitnessacademy.be. European Fitness Academy retains all intellectual property rights on the website itself and on the information provided. If you misunderstand the intellectual property rights or other rights of European Fitness Academy or third parties and do not comply with the conditions set out above, you undertake to indemnify European Fitness Academy or third parties against any claims or Claims arising as a result of an infringement thereof.
Confidentiality
Any comment or material that you provide to European Fitness Academy unsolicited and on its own initiative, including any information or comments regarding the content of this site, shall be deemed to be non-confidential. European Fitness Academy rejects any obligation to take account of the results of these general responses and data. European Fitness Academy may use these reactions and data in its sole discretion, subject to restrictions laid down in the Law of 8 December 1992 on the protection of privacy in relation to the processing of personal data. You agree that European Fitness Academy may use the ideas, concepts, knowledge and techniques contained in your responses for any purpose whatsoever, including, inter alia, the development and conceiving of new services.
Registered Trademark
European Fitness Academy is a registered trademark and the property of European Fitness Academy BVBA with ON 0682 790 819.
Disputes
This online agreement and all disputes and claims arising out of the use of this site or any data on it are governed by the provisions of Belgian law. Consultations of this website implies that you are subject to the case law of the courts of Brussels, Belgium, and that you accept to bring all proceedings to that court only.
© European Fitness Academy | European Fitness Academy is a registered trademark