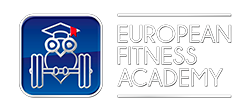 WHO GUIDELINES ON PHYSICAL ACTIVITY and EXERCISE DEFICIT

According to the WHO guidelines on Physical Activity (1) every adult must workout 2x a week (strength and cardio training). Those who do not do this will suffer from exercise deficit and will have to deal with health-threatening disorders:
Metabolic disorders (overweight, high blood pressure, cholesterol, belly fat, diabetes)

Mental disorders (stress, burnout, depression)

Mechanical disorders of the musculoskeletal system (back pain, etc.)
PANDEMIC OF PHYSICAL INACTIVITY
Scientists describe the consequences of exercise deficit as 'The Pandemic of Physical Inactivity' (2)
5 WEEKS FITNESS STUDY AS A STARTING OFFER
European Fitness Academy wants to help physically inactive people to start exercising by inviting them to participate in a 5-week fitness study in our accredited fitness centres.
HEALTHY LIFESTYLE
After participating in the 5-week fitness study, a personal report will prove that the exercise deficit can be efficiently made up thanks to a dosed fitness and health coaching routine.
The measured progression forms the basis of the motivation to continue with regular fitness. 

The acquired knowledge about the impact of fitness on health supports the necessary behavioral change for an active and healthy lifestyle. 
(1) https://www.who.int/publications/i/item/9789240015128
(2) https://www.thelancet.com/journals/lancet/article/PIIS0140-6736(12)60898-8/fulltext
COMMITMENT OF THE EUROPEAN FITNESS ACADEMY  
We are the experts in the field of physical fitness and physical reconditioning. It is our social obligation to offer our expertise and show our unconditional commitment. 
We aim to encourage all physically inactive people to start working out. Fitness as the foundation of an active and healthy lifestyle. Fitness as the basis of strong physical and mental health.
WHY FITNESS? 
Fitness is the only type of physical exercise where the amount of effort for both cardio and strength exercises can be adjusted to the needs, capabilities and limitations of each individual. The initial intensity is minimal and the build-up is progressive.   
MEASURABLE RESULTS AND HEALTH BENEFITS FOR EVERY BEGINNER 
For this reason, fitness is the only type of physical exercise that offers a feasible and effective starting point for the physically vulnerable as well as for those in the 50% risk group, as a prevention or remedy against this pandemic of physical inactivity, AKA the pandemic of the metabolic syndrome, AKA the pandemic of overweight and obesity. 
Bart Colombie
founder and CEO, European Fitness Academy